This article was originally featured on the Danish Marketing Association's online news site on 23 August 2018. 
By: Finn Graversen
In fact, a billion is spent on Martech investments – but the share of the marketing budget is lower than in eg. USA and England.
Danish advertisers spend a billion on investments in Martech, but seen in an international perspective, they are very far behind in terms of making real use of the opportunities in the many technological options.
This is the conclusion from Rasmus Houlind, Agillic, based on the results of the Annual Trend Report from MyResearch. The report is based on responses from 179 advertisers representing a total marketing budget of 7.3 billion DKK.
For the first time, this report includes an estimate of advertisers' investments in Martech, which is 8 percent of the total marketing budget, which is estimated to be well over 30 billion DKK.
Although it may sound like a lot, it's a relatively small amount – at least if you compare with countries such as England and the United States. A Gartner report among a number of American and English companies shows that in 2017 they invested about 22% of their marketing budget on Martech.
Rasmus Houlind also notes that Danish advertisers spend just under half of their marketing budgets on Paid Media. "It basically corresponds to permanently renting. You spend your money on other people's platforms, where you buy your own customers' attention. The alternative is to obtain consent and own the relationship and manage the conversation ad libitum," says Rasmus Houlind.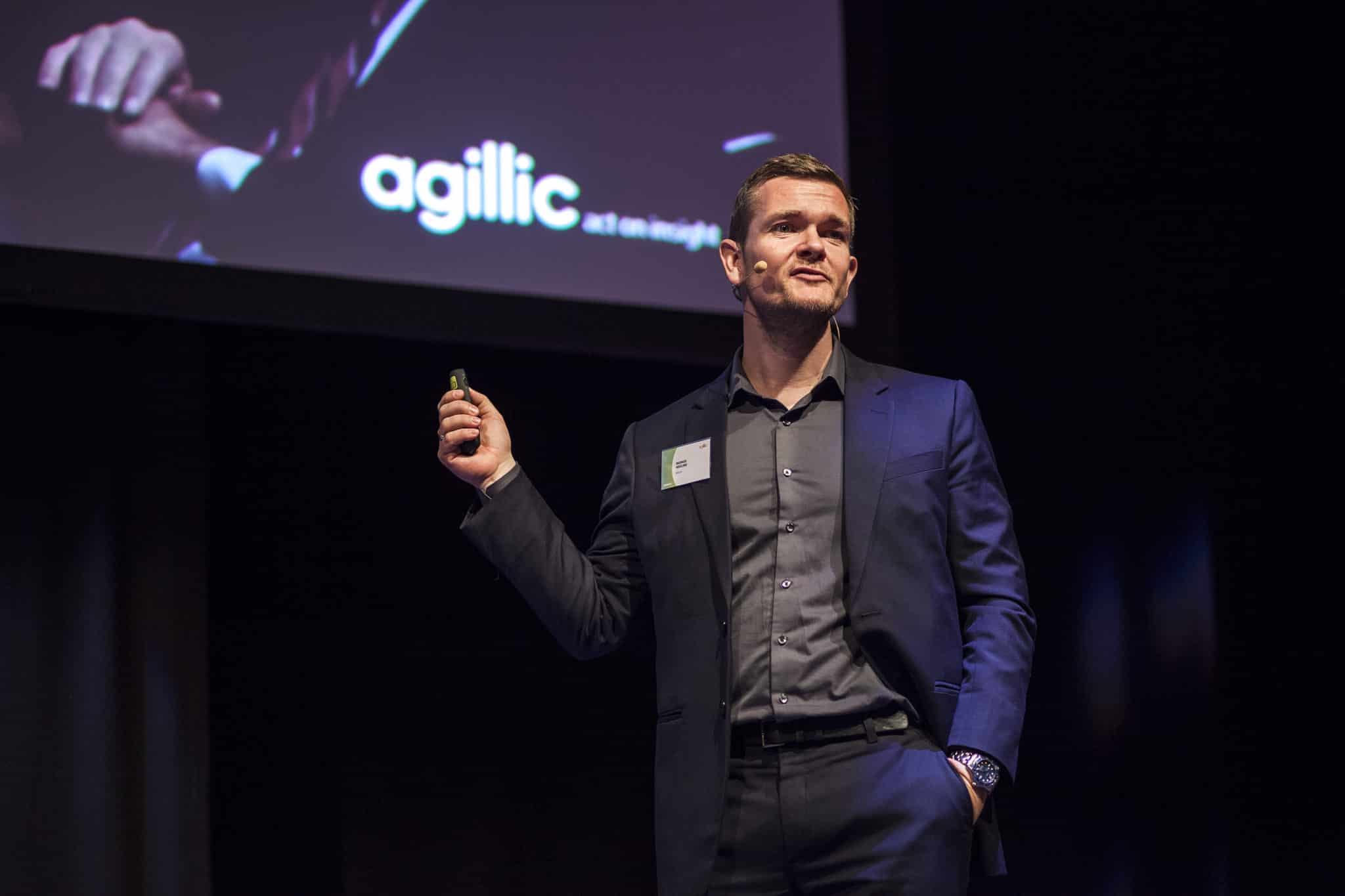 Rasmus Houlind, CMO of Agillic
However, he is convinced that the Martech investments are growing. At least, Agillic's influx of both corporate clients and agency partners indicates this. The company has also grown by + 60 points each of the last three years, and the CMO trend analysis also seems to confirm that there is growth in Martech investments.
"I think it reflects that Danish companies have historically been forced to think a little conservatively, while both the Americans and several of our neighbours have been freer legally and therefore riskier and quicker to seize opportunities. But it's probably not that unusual – Americans are often more marketing-driven and also quick to go all-in when they look good," Rasmus Houlind says, continuing:
"It's not about replacing Paid Media with Martech – it's about finding the right balance, and Americans are still spending a good portion of the budget on the paid media. Advertising is really good for reaching out to wide audiences that you do not already have a relation to, to create awareness and to create an emotional connection. But once you have a relationship, it's much more cost effective to communicate directly through your own channels and with personalised content based on your own data and insights."
Rasmus Houlind, however, can find possible explanations as to why it has not gone quite as fast in Denmark, although we as a nation are actually quite far ahead digitally.
"It hasn't been that many years since it became legally possible to make individual offers in Denmark, while in other countries there is a long tradition of working more with, for example, coupon-thinking. This has been the basis for internationally recognised loyalty programs such as Tesco in the UK and ICA in Sweden. It is, among other things, this individualised relationship with targeted offers, which Martech allows you to work dynamically with."
In the CMO trend analysis, respondents have also been asked whether they feel they have an overview of which Martech tools are available. According to the report, only 4 out of 10 feels that they have an overview. This result can be interpreted as insecurities within the area, which truthfully can seem quite complex.
"You can see in the trend report that the numbers are roughly the same for the agency directors, and I'm actually more puzzled about that," says Rasmus Houlind, and continues:
"But basically, it's a wrong place to start. You don't need to have an overview of the entire market supply of tools. There is probably no one who fully does – even if they don't order anything else. Instead, you should start by identifying their problem: who are the company's customers, can we directly communicate to them, how well do we know them – and then find the products and messages that match the needs. You do not need to know all Martech products to find those relevant to yourself."
Rasmus Houlind also believes that the agencies move fast and that, in that way, customers will be able to get help finding the right tools.
"At least, we are experiencing a lot of interest in many agencies, and our influx of bureau partnerships also testifies to this," said Rasmus Houlind.
Finally, he believes that the numbers reflecting advertisers' attention to data are lower than satisfactory.
"You can start off on a relatively simple level with Martech activities, but if you want to lift your activities to a higher level, such as our Danish customer SPORTMASTER, investments in advanced data tools that use artificial intelligence are crucial. When we scale the results we see in the area, advertisers have a significant potential here", says Rasmus Houlind.
The MyResearch Trend Report 2018 is sponsored by Agillic, Magnetix, and Hjaltelin Stahl. It contains three analyses in one report:
The CMO Trend Analysis, which reveals how advertisers use their marketing budgets. 179 CMOs representing a marketing budget of 7.3 billion DKK have participated.


Agency Director's Trend Analysis with the participation of 90 bureau directors representing a gross profit of 3.1 billion DKK. Here they answer a number of questions about the development of the agency and the market.
And finally, the key figures analysis, where the total figures for the industry are based on 293 agencies / groups and where key figures are displayed on all agencies over 7.5 million DKK in gross profit plus a number of selected others.