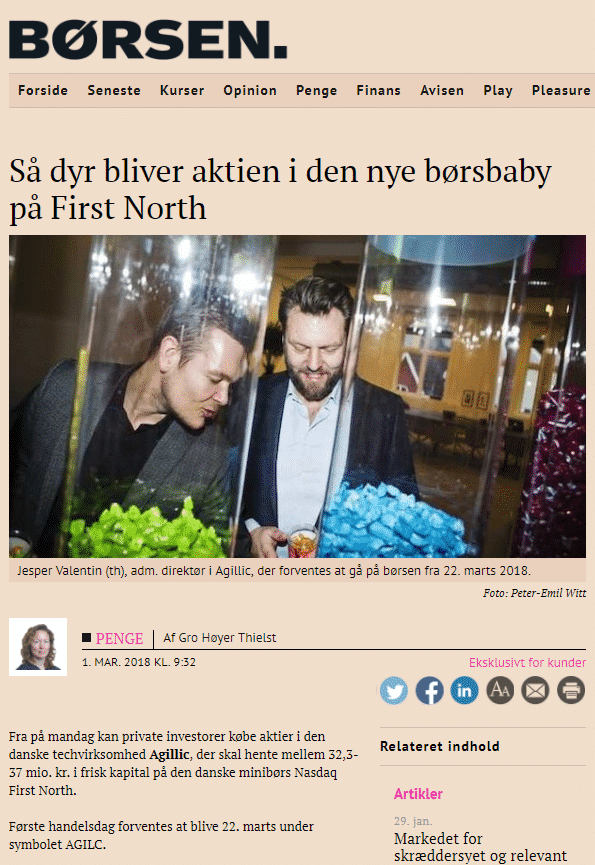 Here's the price stock exchange newcomer will command on First North
This article was originally featured in Danish Finance newspaper Dagbladet Børsen on March 1st, 2018. 
Read the original article (in Danish) here.
By Gro Høyer Thielst (Photo: Peter-Emil Witt)
From Monday, private investors will be able to buy shares in the Danish technology company Agillic, which will raise DKK 32.3-37mf new capital on the Danish small company stock exchange, Nasdaq First North.
The first trading day is expected to be 22 March with the ticker symbol AGILC.
The ask price per share is set at DKK 38 and the company is offering between 850,000 and 973,684 new shares, of which 387,040 shares have already been pre-subscribed, representing a 40-46 per cent share of the total number of shares.
Tailor-made marketing
Agillic sells subscriptions to its cloud-based software platform, where customers can utilise artificial intelligence to achieve more tailor-made and targeted automated communication, for example sales campaigns, when Agillic's customers wish to communicate to their network of customers.
Agillic has customers such as Sportmaster and Matas, and has just added the Varner Group, the Norwegian fashion house, to its customer portfolio – right from under the nose of rival Adobe.
Agillic operates in a billion-dollar global market, and the funds raised from the stock-exchange listing will be allocated for growth. The company is planning to invest in geographic expansion where the UK is the primary objective, while growth in the Nordic region is secondary, Agillic discloses in a press release.
In the longer term, the goal is to achieve a significant market share in other European markets as well as in the US and Asia.
Expecting significant growth
Agillic has achieved rising revenue growth in subscriber sales over the last two years, with 69% growth in 2016 and 60 per cent in the last year. The subscriber-based model is termed Annual Recurring Revenue (ARR). The ARR achieved was DKK 33.332 million as at 31 January 2018.
The company is aiming for "significant growth in ARR" and its long-term goal is to achieve an ARR of at least DKK 100 million by 2020.
Agillic expects to be profitable from 2020, unless the company invests in further growth initiatives, Agillic states in the press release.
According to company management, ARR will be increased by 40-50% in the 2018 financial year, which corresponds to growth of between DKK 46 and 50 million. Revenue is expected to land between DKK 47 and 53 million with EBITDA (earnings before interest, tax, depreciation and amortisation) of minus DKK 5-10 million.
The subscription period runs until 16 March, but can be closed as soon as midnight on 12 March if the interest from investors is so high that the share issue is oversubscribed.
If Agillic does not sell at least 850,000 of the shares offered, the offer will be cancelled.
Based on the ask price, Agillic's market value is expected to be between DKK 312.3 million and DKK 317.0 million after the share issue.
Orders must be submitted to the investor's own bank or through Nordnet.