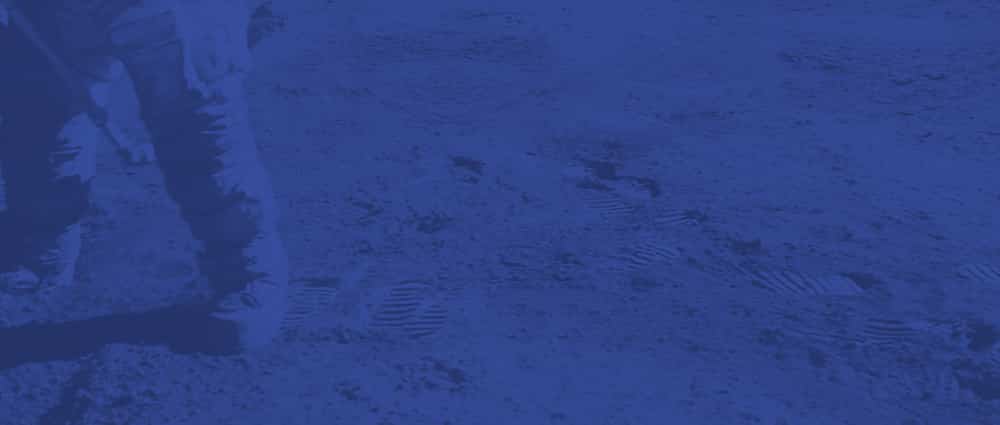 IBM, Agillic and Houston Analytics in new partnership
Danish business newspaper Børsen brought the story today about our newly launched partnership with IBM and Houston analytics.
We're already seeing tremendous growth rates and are getting very positive feedback from the market on our offering. That said – we're extremely proud and happy that IBM, as one of the absolute top worldwide players in the market, see this level of potential in our partnership.
Our joint offering is set to hit the sweet spot of retailers worldwide who want to reach customers with relevant and timely communications across digital channels reaping benefits as high as 30%-45% for critical touch points in the customer lifecycle.
Use customer data and predictive intelligence to create 30-45% uplift pr customer

No hardware instalments necessary

Up and running in very short time

No long term commitments
To achieve this we have combined real-time analytics based on IBM products and predictive models from Houston Analytics with the powerful omnichannel execution capabilities of Agillic. 
It's all extremely easy to both purchase and implement since both communication flows and predictive algorithms are prebuilt based on best practice and ArmstrongOne is available as SaaS on a monthly subscription. Implementation times are as low as 1-3 months – and not years as these projects can sometimes last.
See the original article in Danish here: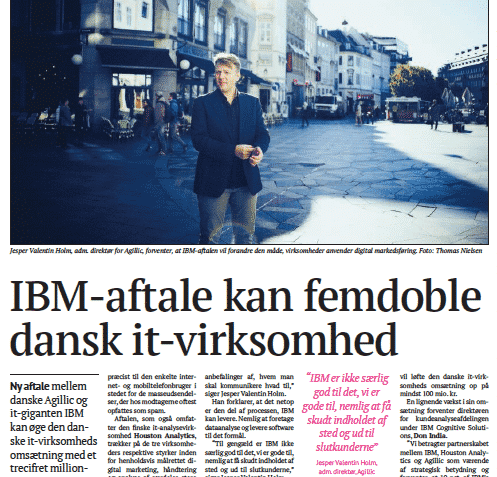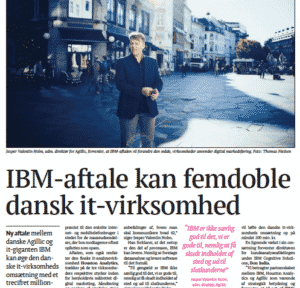 Or read the translated version below:
IBM Collaboration may quintuple Danish IT Business
New collaboration between Danish Agillic and IT gigant IBM may increase turnover for the Danish software business by a three-digit million sum
By: Per Møller Christensen, pech@borsen.dk
A new collaboration between Danish software company Agillic and the American IT giant IBM is expected to raise revenue for both parties with a total estimate exceeding 100 mio. Danish kroner (~€15m) in 2017.
The reason lies within the combination of new technological competences between the small Danish software vendor and IBM which which has benefitted both companies. The joining of forces will revolve around digital communication targeted specifically to individual web- and mobile device users, replacing mass send-outs which often are perceived by recipients as being spam messages.
The cooperation which also includes Finnish IT Analytics company Houston Analytics, draws upon the strengths of the three partaking companies, respectively; targeted digital marketing, handling and analytics of large quantities of data and – for Houston Analytics – the expertise of prediction within customer behaviour and patterns, based on previous customer actions.
Value for customers
CEO of Agillic, Jesper Valentin Holm, categorizes the collaboration as a huge asset to both IBM, Agillic and especially Agillic customers.
"We often discuss with our customers, the marketing departments of businesses, how to deliver the most relevant content to particular customers. They can achieve that, as long as they are able to take a look at all the existing accessible customer data, analyse it and use it to deliver recommendations on to whom and what to communicate." says Jesper Valentin Holm.
He explains that this is exactly that part of the process that IBM masters; doing data analysis and delivering the software for the task.
Agillic CEO expects that the new collaboration will result in a quadrupling or quintupling of the yearly turnover in 2017, something that Agillic for competitive reasons does not publish. Sources within the industry estimates that Agillic's turnover is around 20-25 mio. DKK. a year, which then suggests that the collaboration with IBM will elevate the Danish IT business' turnover to at least 100 mio. DKK.
A similar growth in turnover is expected by Global Director of Customer Analytics, IBM Cognitive Solutions, Don India.
"We consider the partnering between IBM, Houston Analytics and Agillic as being of strategic importance and expect that 10% of IBM's total turnover within Customer Analytics in 2017 will derive from the partnering," Don India says.
"We consider the partnering between IBM, Houston Analytics and Agillic as being of strategic importance and expect that 10% of IBM's total turnover within Customer Analytics in 2017 will derive from the partnering." – Don India, Global Director of Customer Analytics.
Apart from the synergy effects by bringing together respective concepts from Agillic and IBM, Jesper Valentin highlights the most important piece, contributed by Finnish Houston Analytics.
"Houston Analytics is within the IBM world, champions of supplying what is known within the industry as a predictive score model. A predictive score model can predict for instance at which time I as a consumer will most likely visit a particular store/website or will need to purchase something from the store again, and that allows you to communicate more accurately" explains Jesper Valentin Holm.
Facts – Marketing for digital platforms
Agillic is an IT business who specialise in marketing automation focusing on digital marketing via web, text messages and commercial content directly through ad-financed mobile apps for smartphones
The company services around 40 customers in the Nordics as well as a handfull in the UK. Flagship customers include Club Matas and customer loyalty programs for SPORTMASTER, Sydbank and Santander Bank
Agillic is currently owned by venture capital business Dico, The Danish Growth Fund, the two business angels Johnny Henriksen and Peter Elbek together with senior members of the organisation
Contact with IBM through Matas
By: Per Møller Christensen, pech@borsen.dk
It was a shared Danish customer, Danish beauty retailer Matas, that led the Danish software company Agillic into the arms of the American giant IBM and this is now resulting in a strategic collaboration which both parties expect a lot from. "The dialogue with IBM originated via Matas, whom we assist with the chain's loyalty program Club Matas, and who is also an IBM customer," says CEO of  Agillic, Jesper Valentin Holm. He further explains that the conversation quickly became focused on how to develop a product which was more relevant for businesses seeking to send more relevant content to the individual customer.
Combining forces
"The discussion was particularly centered around the use of insights from large quantities of data and the ability to communicate in a fresh and engaging manner," Jesper Valentin Holm says. He explains that within many businesses traditionally there is a gap between the two, as data is often an area of the IT department and communication is a matter for the Marketing departments.
With IBM, Global Director of Customer Analytics, IBM Cognitive Solutions, Don India, has great expectations for the collaboration.
"When I assess new partnerships, I look for solutions that first of all are already up and running and in use, second if it's in areas where we do not offer anything similar and third are applicable for a wide range of customers," Don India says.
He says that IBM has not previously had an end-to-end solution for the actual use of customer analytics within retail.