Agillic is a Nordic software company offering marketing departments a platform, through which they can work with data-driven insights to create, automate and deploy personalised communication at scale.
Agillic was publicly listed in 2018, and is on a growth journey. The Company holds a leading position in the Nordics while increasingly gaining international presence. International expansion is achieved through strategic partnerships and through sales offices in London and Stockholm. 
Agillic succeeds in a time and in a market where superior customer experiences, relevance and personalised communication across channels are recognised as essential to creating customer satisfaction, loyalty and value. In 2019, Agillic documented its ability to capitalise on the market potential and increased its revenue by 38%. Agillic expects to have a positive EBITDA from 2020 and onwards.
The Agillic share
Agillic was listed on Nasdaq First North Copenhagen in March 2018. The market value of Agillic was DKK 253 million at the end of 2019.
Ticker: AGILC
An investment in Agillic is an investment in:
a scale-up software company with an entrepreneurial spirit
a market-leading, native customer marketing platform
a proven business model: Software as a Service (SaaS) offering high profit margins and high financial predictability.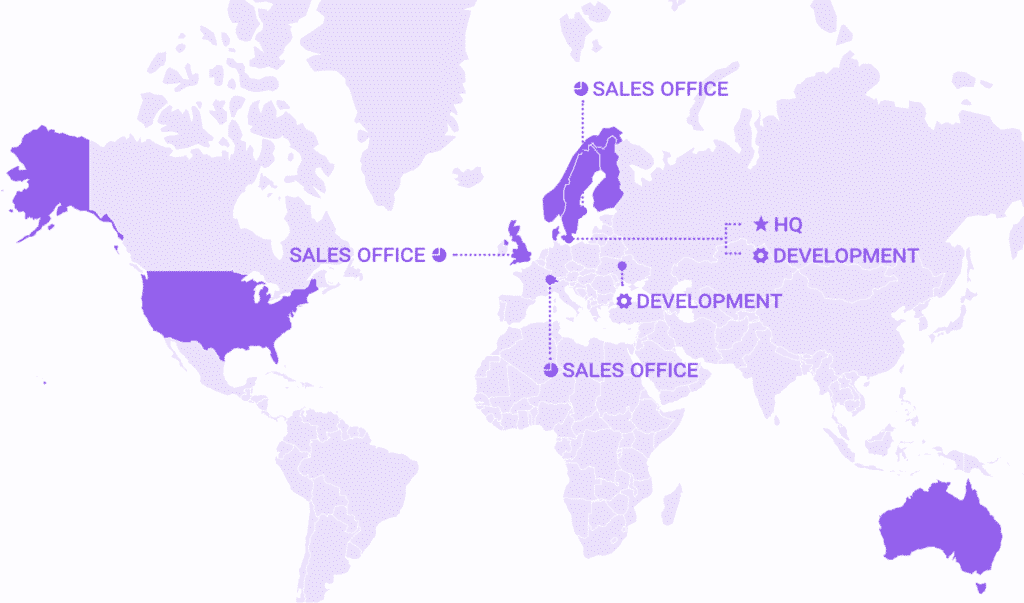 Market presence
Agillic has a leading position in the Nordics and an increasing international presence.
Offices
HQ: Copenhagen
Sales offices: London and Stockholm.
Development: Copenhagen and Kiev
A growing amount of data available
Consumers expect and reward personalisation
Rising omnichannel marketing adoption
Increasing focus on martech to release the potential of personalisation
Agillic is a subscription business. Clients pay a yearly fee for access to the Agillic platform and pay an additional fee for the communication carried out from the Agillic platform, i.e. the amount of, for example, emails and text messages.
The marketing-technology market is estimated to grow by 16% yearly during the period 2017-2023.1


1. QYResearch, Global Marketing Automation Software Market Size, Status and Forecast 2023, January 2018.
Financial highlights 2019
ARR: DKK 55 million – an increase of 10% compared to end of 2018
Total revenue: DKK 54 million
– an increase of 38%
Annual Recurring Revenue (ARR) in DKK (end-year)