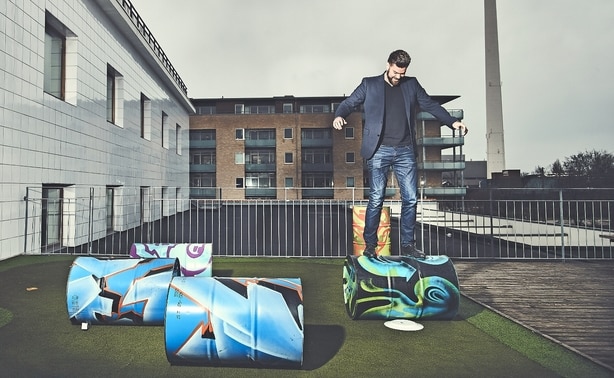 Morten Strunge invests millions in Stock Exchange newcomer
This article was originally featured in Danish Finance newspaper Dagbladet Børsen on March 19th, 2018.
Read the original article (in Danish) here.
Perennial entrepreneur Morten Strunge subscribes to an approx. DKK 2.5 million in shares in the upcoming listed company Agillic.

By Gro Høyer Thielst (Archive photo: Jeppe Carlsen )
Entrepreneur and multi-millionaire Morten Strunge is one of several preliminary shareholders to have already secured themselves shares in the upcoming listed company Agillic: "The market is growing, and Agillic is right in the swing of things."
The Onfone, Plenti and Mofibo founder, Morten Strunge, is among the number of preliminary shareholders in the upcoming listed company Agillic. Although he is only making a modest investment – approx. DKK 2.5 million – into the company via his investment company Investru ApS, he sees great investment potential.
"Agillic is far ahead of the game in terms of their insight into the management of customer relations and being able to work individually with a cross-channel relevance, such as via SMS, email or push messages", says Morten Strunge.
Agillic sells subscriptions to its cloud-based software platform to customers such as Sportsmaster, Matas and, their latest customer, the Danish Red Cross. Customers have the option of supplementing this platform with artificial intelligence in order to achieve more tailor-made communication of e.g. sales campaigns.
Gaining a larger share of the market
In 2017, the global market for digital marketing technology was estimated to be worth approx. USD 37 billion (DKK 223 billion), and this is expected to double over the course of the next five years.
"Agillic already has an illustrious history and excellent growth, and it has a good, solid customer base. The market is growing, and Agillic is right in the swing of things, so it would be strange if Agillic were not to receive, as a minimum, its fair share – which I think this will comprise a larger share of the market", says Morten Strunge. He adds that "Agillic's shares have a lot of potential in the long run."
Jesper Schack has also secured himself a handsome portion of advance shares.
"I have a background in the IT world, and I have founded and managed a large software company. One of the things we lacked is exactly the thing that Agillic is providing", says Jesper Schack who, in 2015, sold his life's work, Telebilling, for DKK 150 million.
"There is a future in what Agillic is doing. They are not that big, and that only makes it even more interesting. On top of that, they are actually incredibly good at what they do", says Jesper Schack who, via the company Self ApS, has invested just under DKK 2 million in Agillic.
Other preliminary shareholders include the heir to the Haldor Topsøe empire, Frederik Topsøe, the CEO of Omnicar, Mikkel Lippmann, and lawyer Peter Lerbrandt.
Agillic has chosen to list on the Danish small company stock exchange Nasdaq First North and, to this end, hopes to raise between DKK 32.3-37 million in fresh capital, which will be used specifically for gaining a foothold in the British market. For this reason, Agillic has just employed Mike Weston as its new Managing Director.
"We have laid plans for getting started in the UK. We are looking to repeat the success we have had in Scandinavia, which has come about via the hiring of some senior employees with a very thorough knowledge of the market, a technological insight, and opinions on where the market is headed", says Jesper Valentin, CEO of Agillic.
The Managing Director's drive for startups
The list of candidates for the post of UK Managing Director consisted of 15 people, but the job eventually went to Mike Weston who, for a number of years, worked with Agillic's competitors as the Managing Director of Silverpop UK, which is now a part of IBM. He also worked as one of Adobe's strategic partners.
"As such, he has a thorough knowledge of our competitors, and he is an entrepreneur "at heart". He has been offered positions at large companies, yet he has opted to work for a smaller startup", Jesper Valentin says.
Agillic will be listed on the stock exchange on 22 March at a market value of DKK 310-315 million.